Trail Updates, Upcoming Events, Photo updates, Advocacy, and more!
Upcoming Events
30 days until Rose to Toads !!
Registration is now open to TAMBA members! Ticket quantities are limited, and once the event is sold out, no more tickets are available. If you are a current member or recently renewed, please email info@tamba.org for a password to access the registration. (You can see your membership status at the bottom of this email. If you think it is incorrect, please email us, and we can verify for you).
TAMBA's iconic Rose to Toads ride relies on volunteers to deliver an amazing event. Sign up here to help with event setup, day of activities, and ride clean-up.
Over 62 miles in length with 8,000+ feet of climbing and 10,000+ feet of descent, this is an amazing (and tough) mountain bike ride. It takes most people all day to complete the ride and showcases some of the best trails linking Lake Tahoe's North Shore from Mount Rose down to the South Shore, ending on the famous Mr. Toad's Wild Ride. It's not a race, but the ride can be as intense as you want it to be. Join us and be part of something awesome!For 2022, there will be three rest stops along with a finish-line celebration. The Tahoe Rim Trail Association will be at the Spooner rest stop, and Shoreline Tahoe will provide support with a rest stop just after Kingsbury Grade.  The final smaller rest stop will be at Armstrong Pass.
Sunday, September 25 –  Fall Fundraiser
TAMBA will host a special party to celebrate Tahoe trails and future partners, opportunities, and trail updates.  This function will be held at the beautiful 4H Camp on the shoreline at Stateline, Nevada.  More details will be coming soon.
The Corral Night Ride is a fabled gathering of hearty souls that stage a night ride with Halloween revelry each year. This ride is FREE for all current TAMBA members as a way to say thank you for your support!Costumes, bikes, friends, and fun! Come join TAMBA for a ridiculously fun night riding bikes at Corral Trail. Join us and all your closest silly mountain bike friends… it's the best night of the year – if you like to ride in costume like a kid in the dark!
---
Upcoming Trail Days
We've got a packed calendar of trail days in August on a variety of projects all around the Lake. Head on over to our events calendar for a complete list and to sign up!
August 14 (& more) – Kaspian Rim Major Trail Day & BBQ! Join us for this TAMBA sponsored major trail day on the 14th at Kilner Park. We need a large number of volunteers to keep this amazing new trail moving forward, so bring your friends and family!
August 9 (& more) – Road 73 Bypass Trail Volunteer Day.  Come help us rebuild the Road 73 Bypass Trail above Tahoe City! Join us from 8:30am – 2:30pm as we work our way from the bottom of Stumpy Super G to the top of The Great Race Trail (Woop-dee-doo).
August 11 (& more) – Meeks Ridge Trail Volunteer  Day.  This work day will be recurring through the Fall details here. Come join the fun and rebuild the Meeks Ridge Trail on the West Shore.
August 19 & 26:  Tahoe Mountain Maintenance Days – Help us keep the whitethorn under control on the Tahoe Mountain trail network as we cut it back to improve sight lines. Sign up here.
Tuneup Tuesday – Bijou Bike Park  Join us each Tuesday evening at 6pm for some fun maintaining the bike park and then getting a ride in with friends…
Don't see something listed or want to have a workday with your coworkers, reach out to us at trails@tamba.org and we can put together a trail day for your organization.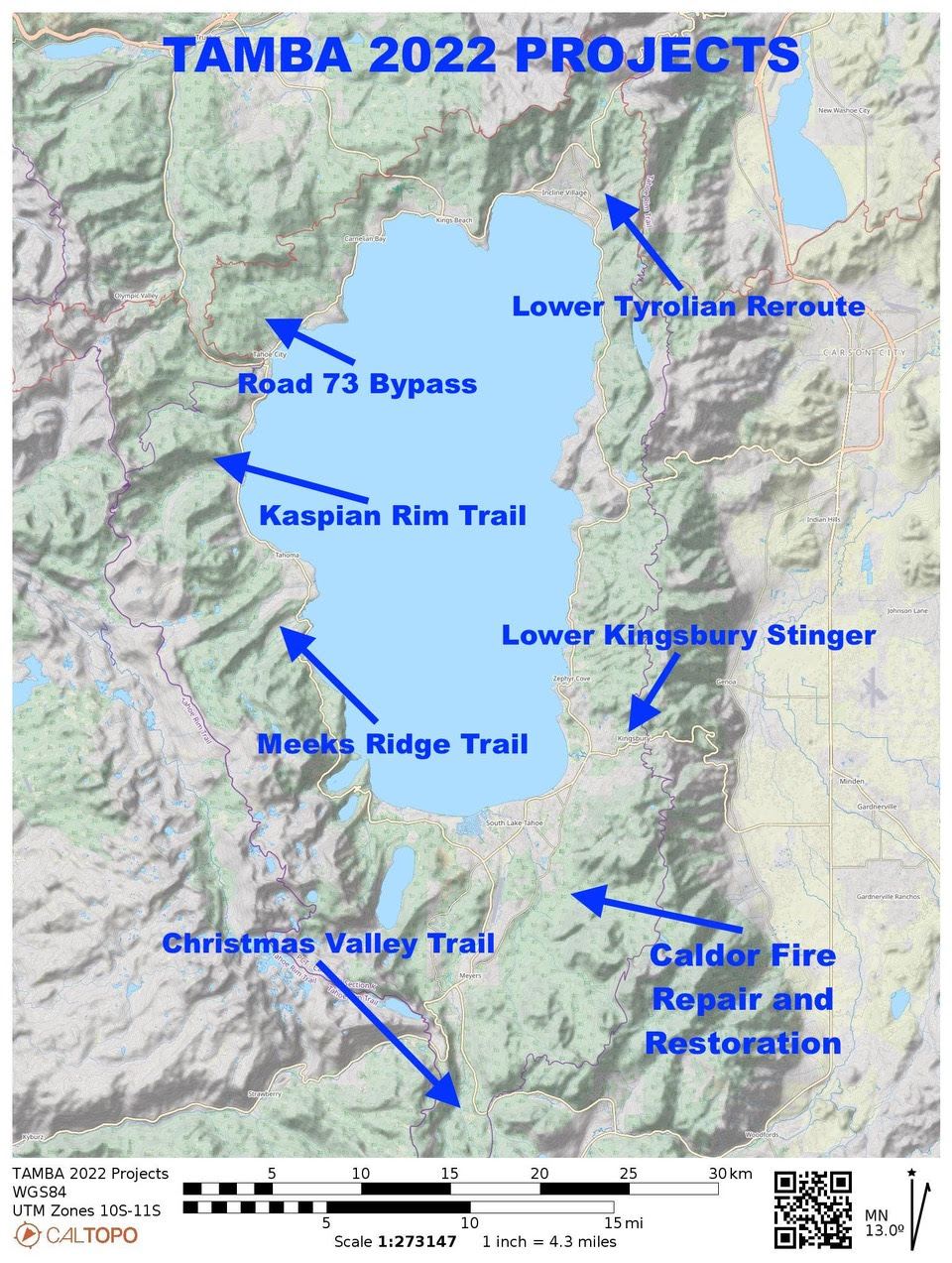 TAMBA paid team members on Lower Tyrolian trail.
TAMBA crew working on the Lower Tyrolian trail.
Tahoe Rim Trail showing how it's done for Rose to Toads.
We want to see your photos! Tag @tambatahoe or use #TambaTahoe
Recent Trail Work!
July was a busy month on Tahoe trails with regular work happening at all corners of the lake with a variety of projects.
On the west shore, we continue to make great progress on the Kaspian Rim and Meeks Ridge projects. On the north shore we have been busy installing signage, working on the Lower Tyrolian Reroute, and inspecting bridge repairs needed around Incline Lake. On the south shore, we have ongoing work to keep the whitethorn at bay and our volunteers continue to make progress on the Christmas Valley alternate lines.

Above: Volunteers on Kaspian Rim trail.

Above: ARCC students clearing brush on Tahoe Mtn
---
Fire Danger Closures and Responsible Trail Use
The main note as we roll deeper into summer is to remember that the fire danger will be getting worse and that some land closures have already occurred and more are likely down the road, especially as fire fighting resources start getting limited.
Visit Living With Fire Tahoe to get the latest information on restrictions, fire danger and other fire news in the Lake Tahoe basin
Summer is in full swing here in the Tahoe Basin and the trails are busy!  Avoid the heat and the crowds by getting an early start on your rides. Don't be afraid to make some new friends by slowing down and saying hi to other trail users! Keep the positive stoke going out there!